17.05.2017

Continued cooperation with Uljanik Group

DATA LINK and Uljanik Group continue with their successful ongoing cooperation and project through which Uljanik Group shipyards – 3. Maj from Rijeka and Uljanik shipyard from Pula fully transition to the GalaLED system of portable work lighting in all their future shipbuilding projects.

A new supply of five thousand GalaLED lamps with its associated cableing connection system is being delivered, whereby Uljanik Group will completely switch to the GalaLED lighting system. The project is being financed by the company HEP ESCO, through the ESCO financing model an payed of with electricity savings.

In addition to huge savings in electricity, Uljanik Group will by using the GalaLED lighting system, be aligned with the highest safety standards, it will achieve higher work productivity and efficiency and ultimately it will modernize its operation processes.
17.05.2017

GalaLED 24VAC portable safety lighting

Leading the company's ongoing growth, development and expansion mission, DATA LINK's team of professionals, engineers and innovators has developed and produced a new model of GalaLED portable safety work lighting that operates at 24VAC safety voltage.

The new GalaLED 24VAC model with its superior technical and mechanical performances is applicable to a variety of industries such as shipbuilding, ship repair, civil engineering, military and other industrial sectors which require efficient low weight lighting - 0.45kg, with negligible power consumption - 9W, but at the same time with exceptional high lumen output of ~1000lm, power supply from multiple electricity sources and high mechanical protection - IP66, IK10.

The GalaLED 24VAC is set up quickly to the power supply cable with simple connectors, to a "long-line" connection system. GalaLED 24VAC is available for the market now.
17.05.2017

DATA LINK on International exhibitions

Over the past few months, DATA LINK has participated as exhibitor and as visitor at three major international trade shows covering shipbuilding, ship repair, offshore, oil and gas and military industries.

At the international exhibition in Italy "Offshore Mediterranean Conference & Exhibition" and at the "International Scientific Meeting of Gas Experts" in Opatija, we introduced a new product – Ex GalaLED – ATEX explosion proof LED lamp intended for use in highly flammable, hazardous areas with explosive gas and dust atmospheres.

At the "Adriatic Sea Defence & Aerospace exhibition" in Split, besides the Ex GalaLED lamp, we featured a new model of portable safety lighting GalaLED 112, used for emergency situations and interventions. Both products have attracted major interest from potential customers and are expected to enter into new markets and start successful new business ventures.

In addition to the mentioned exhibitions, DATA LINK has participated at the NOR – SHIPPING International Maritime Exhibition in Oslo, and will by the end of 2017 participate at Europort Rotterdam in Netherlands and at Adipec International Petroleum Exhibition in Abu Dhabi.
16.03.2017

Approved grants for the project "Production computerization of company DATA LINK d.o.o."
By signing a grant contract with the Ministry of Economy, Entrepreneurship and Crafts and the Croatian Agency for small business, innovation and investment, company DATA LINK d.o.o. has become eligible for grants for projects financed from European structural and investment funds, in the financial period 2014.-2020. The contract was signed on 3 March 2017.
It is an ICT project "Production computerization of company DATA LINK d.o.o.", contract reference number: KK.03.2.1.03.0199, which is financed from the European Regional Development Fund, whose total value amounts to 830,666.25 HRK from which assigned grants funds amount to 598,079.70 HRK.
The goal of the project "Production computerization of company DATA LINK d.o.o." is to improve the level of efficiency and productivity of DATA LINK d.o.o. through investments in tangible and intangible assets necessary for the introduction of new and improvement of existing ICT solutions. The new ICT solutions will modernize daily operations, optimize business processes, integrate business functions, effectively organize workflows, improve interactions with customers and suppliers, and improve the market position of the company and increase the competitiveness and efficiency of operations.
Contact person for more information is Rinalda Petani-Pažin – rinalda@datal.com
15.03.2017

SCARA robot Toshiba at the Technical College in Bjelovar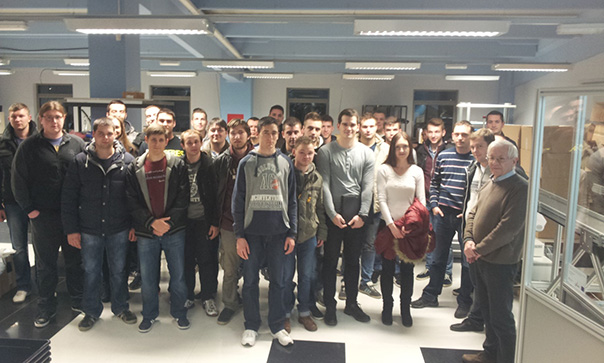 As a part of the "Smart Factory VTSBJ" project and successful, long-term partnership and cooperation with the company DATA LINK, students, professors and mentors of the school were temporarily given a real industrial SCARA robot Toshiba for academic usage.
The SCARA robot with its equipment will enable students to independently prepare seminars, work on various projects and conduct final student thesis.
Knowledge and experience acquired by the usage of the SCARA robot will be relevant and fully applicable to any manufacturing company, such as DATA LINK, which has complete production facilities with machines, storage materials, high production capacities and quality monitoring systems.
DATA LINK together with its owner and managing director Mr. Darko Crha and his co-workers, has for many years been actively involved in establishing and upgrading the quality of the Technical College in Bjelovar and its entire academic program. Also DATA LINK continuously contributes to the school and its students by offering scholarships and employing graduates.
To all students, professors and mentors of the Technical College in Bjelovar we wish successful usage of the SCARA robot and adoption of new technologies.
24.10.2016

Viktor Lenac shipyard celebrated 120 years of successful business
The biggest Croatian ship repair yard Vikror Lenac has celebrated 120 years of successful business. Viktor Lenac who is also one of our most important clients, has established itself over the years as a significant strategic point on the world map of major ship repair yards. We congratulate our partner and look forward to future cooperation in the coming period. Viktor Lenac - 120 years stronger than the sea!

12.09.2016

DATA LINK presented new product line at SMM Hamburg International Trade Fair
During last week DATA LINK presented its new LED professional work lighting product line for the shipbuilding, ship repair and offshore industry in Hamburg at the leading European exhibition - SMM Hamburg.
SMM Hamburg is one of the most important exhibitions for the maritime and offshore industry in the world but also the largest European trade fair intended for producers and distributors for the maritime industry. The fair was attended by more than 2,200 exhibitors participating from 66 countries worldwide. The German Chancellor Angela Merkel was for the sixth time the sponsor of the exhibition.
The participation of Croatian companies was organized by the Croatian Chamber of Commerce. The companies who presented themselves and their products with DATA LINK at the joint exhibition space were Uljanik shipyard, Brodosplit, Brodotrogir, and different manufacturers of marine equipment such as Koncar Generators and Motors, Indi metal, Elka, Adriawinch, Adriadiesel, MPD Pumps Factory and the company ACM - JEK.
11.07.2016

Gala LED portable safety work lighting in the Shipbuilding Industry Magazine
A respected Netherlands publishing company Yellow & Finch Publishers who in its bi-monthly publications covers topics from the world of maritime industry, shipbuilding and ship repair, offshore industry as well as ports and super yacht industries, released an expert two page editorial featuring Gala LED portable safety work lighting.
As a basis for publishing the editorial the most important comparative advantages and unique technical characteristics of the product were taken into account as well as a financial case study conducted in the biggest Croatian repair shipyard Viktor Lenac, where the Gala LED lighting system is being used for repair projects for over a year.
The published editorial showcases the unique characteristics of Gala LED work lighting including its innovative technical features and supreme operational performances in an impartial and objective way. As another relevant source for publishing this expert product editorial facts and figures where used from the conducted case study which shows a detailed financial analysis of savings generated as a result of using Gala LED lighting system during the process of repair and overhaul in Viktor Lenac shipyard.
Gala LED portable safety work lighting editorial
08.07.2016

DATA LINK completed the project within the Public tender for Enhancing of competitiveness in the manufacturing industry
On the 31st of May 2016 the company DATA LINK has completed the purchase of equipment under the contract agreement with the HAMAG – BICRO agency.
The subject was the allocation of grants approved under the public tender for Enhancing of competitiveness in the manufacturing industry CLASS: 302-01 / 15-01 / 03 including: 567-10-15-3, whereby a device for numerical cable processing has been purchased.
Approved grants have been used entirety. The total amount of the project is 422,400.00 kn, while the amount of the approved grant is 211,548.23 kn.
21.06.2016

DATA LINK at top international shipbuilding exhibitions

DATA LINK company representatives took part at two large European international shipbuilding fairs, where they presented their premium LED portable, safety work lighting – Gala LED, developed for the shipbuilding and ship repair industry.

The Navalia International exhibition, held every second year in Vigo, Spain from 24th till 26th of May, gathered mostly shipyard companies from the Spanish region Galicia, who all presented their best achievements, capabilities and products.

The second international shipbuilding exhibition "Posidonia 2016" took place in Athens, Greece from 6th to 10th of June. This fair brought together the most important international companies in the maritime industry sector, and in addition to numerous well known European companies this fair gathered many large companies from South Korea, Japan, China, Chile, Brazil and Australia.

Besides the exhibition part of these events, numerous conferences, seminars, technical workshops and B2B meetings were held amongst interested companies. The Gala LED professional work lighting for shipbuilding and ship repair awakened great interest within many shipyards, distributors and suppliers of marine equipment.
02.02.2016

GALA LED lighting Ex version
After we have designed and developed a new model of temporary safety work lighting – GALA LED for the maritime industry, we have continued with the development of a new anti-explosive - Ex version of the GALA LED luminaire.
This type of specialized work lighting is designed to illuminate areas that are potentially highly flammable, such as for the shipbuilding and offshore industry. Our goal is to present the Ex version of GALA LED within the next 6 months.
Since this will be an upgrade of the existing product series in LED technology, Ex version of GALA LED will in addition to light efficiency advantages have a number of other imprtant benefits related to its shape, weight, durability and applicability in a variety of industries.
The Ex version of the GALA LED lamp will weigh only ~ 2,2 kg, it will give a lumen output of 4 000lm, it will have a power consumption of 35 W and a safety voltage of 42-48 VAC.
02.02.2016

DATA LINK at a round table about Croatian and Korean shipbuilding
DATA LINK has participated at a round table at the University of Zagreb. The theme of the discussion was the future cooperation between the university community and the shipbuilding industry in Croatia and South Korea.
This topic is very present for both the Croatian academic community as well as for the Croatian shipbuilding industry, which is nowdays still in the transition process. Participantes of the round table were academic representatives from South Korea, representatives from Croatian shipyards, from the Croatian academic community, NGO's and other companies whose business interests are related to the shipbuilding sector.
The cooperation between the two states and two universities can potentially have a good long-term perspective, not only for the academic community but also for the Croatian industry as a whole, which is especially important for local manufacturers such as our company.
11.01.2016

Viktor Lenac, Uljanik and 3. Maj completely switch to the GALA LED system
The three largest Croatian shipyards Viktor Lenac, Uljanik and 3. Maj completely switched to the GALA LED temporary safety work lighting system.
For DATA LINK the past year, 2015 was very important both business and development vise. It was marked with continues growth, development and improvement of existing as well as new LED products from its current product range. We have attended several important professional international maritime industry exhibitions and professional LED lighting trade fairs where we met important people from the industry and made numerous contacts some of which led to several important businesses and partnerships.
During 2015, the three largest Croatian shipyards starting with Viktor Lenac shipyard and following with Uljanik and 3. Maj,shipyards, all fully converted to the GALA LED temporary safety work lighting system, which was entirely developed and manufactured in DATA LINK's production facilities in Bjelovar.
The main financier for the project of Uljanik shipyard group switching to temporary safety work lighting is HEP ESCO, a company engaged in development, implementation and financing of energy efficiency projects, with whom we have signed a business and cooperation agreement.
26.11.2015

DATA LINK at the 3rd Conference on energy-efficient lighting
DATA LINK is for the third consecutive year participating at this year's Conference on energy-efficient lighting, which is being held in Zagreb, in the hotel Antunović, where amongst other respected speakers, the DATA LINK company director, Darko Crha is holding a lecture titled "Advantages of AC technology in LED lighting".
This year's Conference on energy-efficient lighting will point out some new solutions, as well as problems which have been encountered in achieving and implementation of projects in energy-efficient street lighting, and lighting in various buildings. Furthermore, different ways of financing projects of energy efficient solutions installation and will be presented, including some of the most interesting projects realized in the past year.
This professional gathering has invited numerous prestigious national and international companies, partners and professionals from the international lighting industry such as PHILIPS, INTRA LIGHTING, HEP ESCO, SCHNEIDER ELECTRIC, ECO CONSULT which are just a few among many other distinguished participants.
28.10.2015

DATA LINK signed ANNEX I., of the grant allocation agreement

The company Data Link has signed Appendix No. 1 from the contract grant RC.2.1.10-0056 for the project "Increasing productivity of the company by introducing innovative technology of LED lighting fixtures".
With this addition the implementation of the project is extended to 29.12.2015.
12.10.2015

Minister of Entrepreneurship and Crafts Gordan Maras visited company DATA LINK
The Minister of Entrepreneurship and Crafts, Gordan Maras has visited the company DATA LNK which has over the past year received significant funding from the Croatian structural fund for regional development. During his visit Minister Maras has met and spoken with Darko Crha, the company director and all employees, whereby he expressed great satisfaction with what he heard and saw. He considers DATA LINK as a "patriotic company" since it manufactures products with high added value most of which remains within Croatia.
On that occasion, Darko Crha, the company director, presented the project of increasing productivity of the company by introducing innovative technology of LED lighting fixtures, which enables DATA LINK to increase its own production capacity and assembly of electronic LED modules for at least 20 times.
As the result of the entire project and received funding, DATA LINK expects an increase in the productivity of labor, increase in revenue, an employment of at least seven new workers and an increase in value added per employee. DATA LINK already has experience in successful implementation and enforcement of projects of this type and will further on continue to be a part of similar projects, opportunities and tenders.
Video of Minister Maras visit to DATA LINK production facility: https://www.facebook.com/gordan.maras/videos/985195588188190/
28.09.2015

DATA LINK at two international exhibitions - LpS Bregenz and NEVA, Saint Petersburg
DATA LINK representatives have last week participated at two highly renowned and internationally-recognized exhibitions. One in Austria, at the International LED professional Symposium – LpS Bregenz and the other in Russia at the 13th International Maritime Exhibition – NEVA, Saint Petersburg.
At the Bregenz professional LED Symposium which we have attended as exhibitors, we presented our premium LED lighting products and the photogoniometer instrument for measuring spatial distribution of light from the light fixture. This year's 5th LpS Bregenz exhibition once again proved to be an important place where numerous experts and innovators from the LED industry gather to exchange knowledge, introduce upcoming trends and innovations and meet with other fellow colleagues from the field.
During numerous meetings and presentations that we held at Bregenz, we made important contacts and prepared for further successful cooperation with partners, manufacturers and suppliers.
The second fair that we have attended last week is NEVA, the 13th International Maritime Exhibition held in Saint Petersburg, Russia. On this exhibition we presented our GALA LED safety work lighting intended for the maritime industry, mainly for shipbuilding and ship repair.
Both fairs which we have attended proved to be extremely successful and useful and we look forward to continue our work and cooperation with our existing and newly acquired business contacts.
19.08.2015

Light photogoniometer delivered to the Finnish company I-Valo
Light photogoniometer LGPM-C3, an instrument produced in DATA LINK for measuring spatial distribution of light from the light fixture, was delivered to the Finnish company I-Valo, a world-renowned manufacturer of LED lighting. With this delivery DATA LINK continues a long series of references achieved in the field of measurement technology for the LED industry.
The light photogoniometer device is used in the process of developing and testing of new products and is based on the LabView software platform. The basic purpose of the LGPM-C3 measuring instrument is creating IES and LTD files used for light technology calculations in tools such as Dialux, Relux etc.
The operating application allows the creation of files in the PDF format. Reports contain data on the lamp, the measuring instrument and measurement parameters, as well as polar, Cartesian and 3D diagram of the spatial distribution of light, BUG standard, and the illumination shown in isoluxes.
More information about the light photogoniometer and its technical parameters