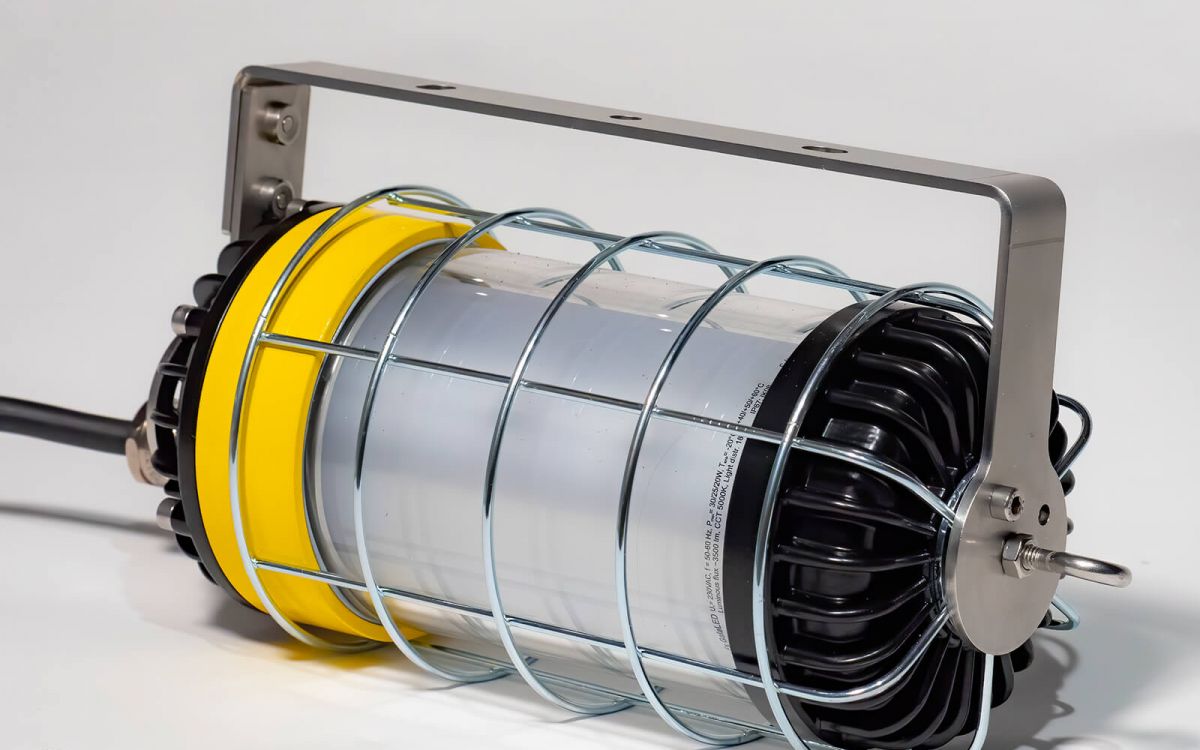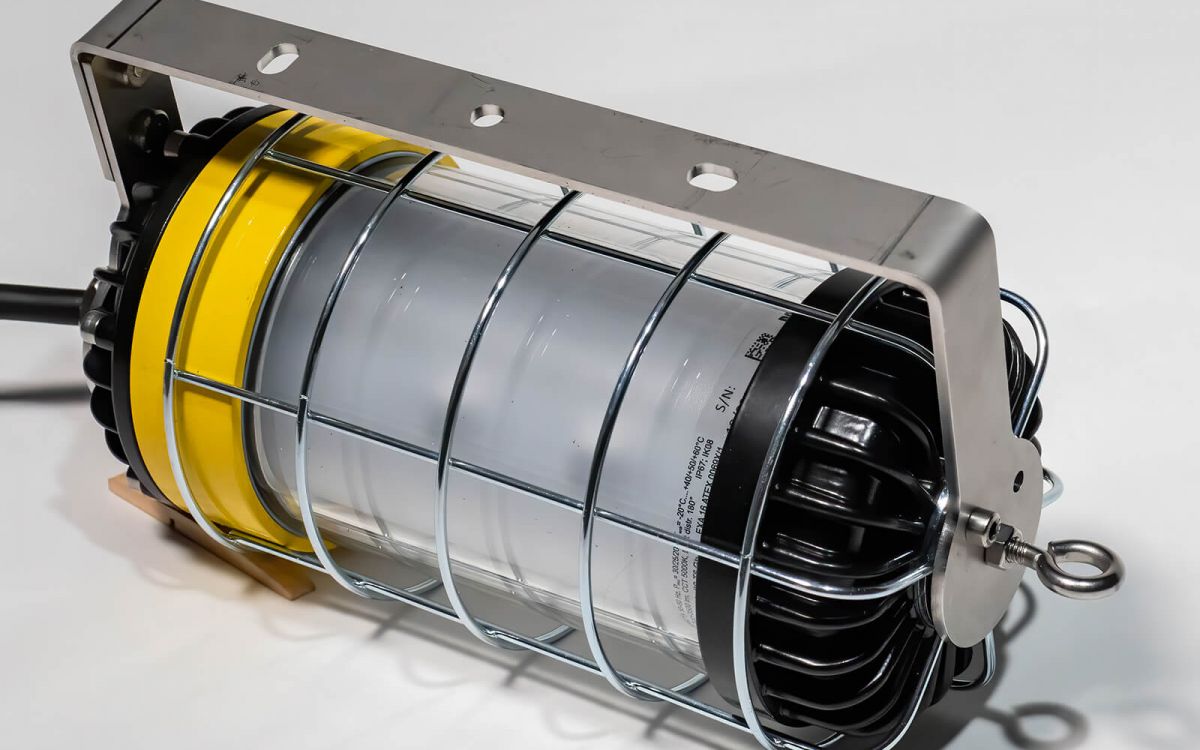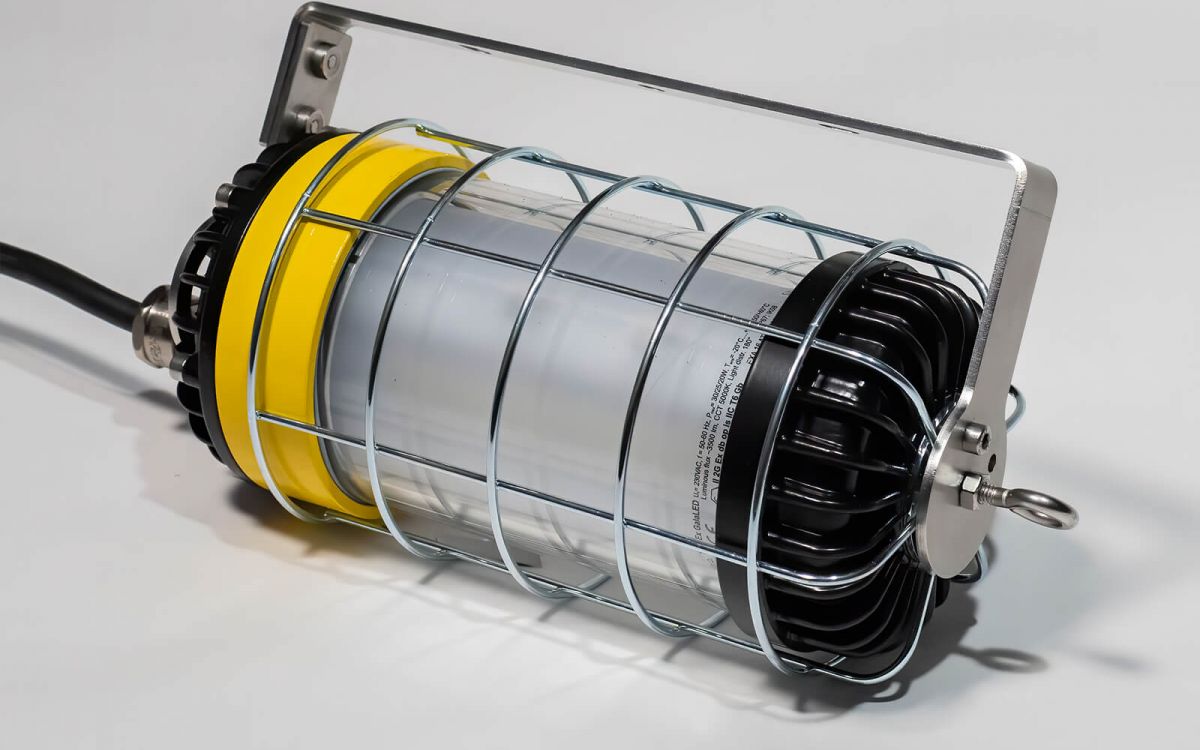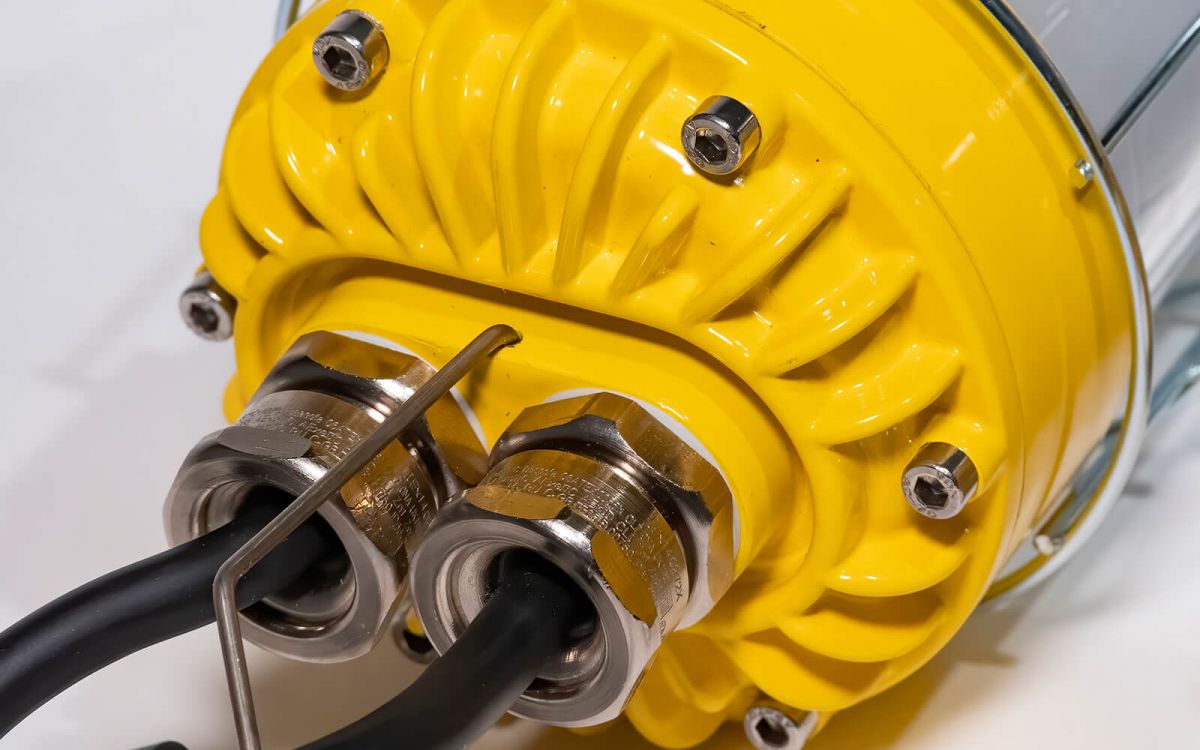 Ex GALA
42V/25W
230V/30W
Electrical Characteristics
Nominal Voltage
42VAC
230VAC
Operating Voltage
38 - 48VAC; 38 - 60VDC
210 - 250VAC
Total Power
~25 W
~30W
Power Factor
≥ 0,98 at 42VAC
> 0,98 at 230VAC
Total Harmonic Distortion
~8 %
~13%
Operating Temperature
-40°C to +50°C
Light Characteristics
Lumen output
~2500lm
~3500lm
Luminary Efficacy
~100lm/W
~115lm/W
CCT (Correlated Colour
Temperature )
4500K to 5500K
CRI (Colour Rendering Index)
80 - 85
Estimated service life
60.000 working hours temp. 25°C
Protection, Construction, Dimensions
IP Rating
IP 66
Protection
IK8, OVP, OTP
Diffuser
PMMA 2,5mm
Housing
Aluminum alloy powder painted with tempered borosilicate glass tube
Fixture Weight
2,3kg
Dimensions
Φ110 mm x 265 mm
Cable entry
2xM20 glands or M20 gland and M20 plug
Connection cable
3x1.5mm2 or 3x2.5mm2
Connection terminal
L1,N,PE max 3x2.5mm2 External PE terminal M5
Certificate
EXA 16 ATEX 0069X
Explosion protection
II 2G Ex db IIC T6 Gb; II 2D Ex tb IIIC T85°C Db
Ex GalaLED is a portable, low voltage LED lighting with high level of protection intended for use in places with an explosive gas and dust atmosphere.
The lamp is designed for use in the marine, shipbuilding, ship repair, and offshore industries, both for indoor and outdoor spaces. It can be used as portable, temporary Explosion-proof lighting and it can be positioned as general, fixed in Ex-proof lighting.
During the development process of Ex GalaLED, our main focus was on the compactness of the lamp so we created a low weight Explosion proof compact light, which is easy to handle and manipulate.
The Explosion-proof GalaLED is a state-of-the-art product with many outstanding features. The lamp operates on 230VAC and on safety, low voltage of 42 VAC which is in compliance with the highest safety standards (CENELEC norm HD63751). This Explosion-proof light weighs only 2,3kg, has luminous flux up to 2500 lumen, and a high level of protection.
The lamp is not only "armor" with a retrofitted LED light, but a specially designed LED light source with an extremely robust and reliable enclosure that is also a heat sink for very efficient LED cooling.
Explosion proof work light GALA is designed for application in indoor and outdoor facilities and industrial areas. It is used as temporary safety voltage lighting in the marine industry is highly flammable, hazardous areas with explosive gas and dust atmosphere – shipbuilding, ship repair, offshore, painting, maintenance. Applicable in Hazardous zones 1, 2, 21, 22
The main advantages of Ex GalaLED work lighting are significant financial savings and cost reductions achieved through the use of this lighting, large energy power savings, an increase in lighting operation reliability and a major increase in worker safety and productivity due to the high luminosity of the lighting
Explosion proof work lighting has excellent thermal management because the LED engine is directly attached to the top and bottom cover acting as an efficient heat sink
The LED light source has a circular characteristic of 360 °
This Explosion proof work light has high light intensity but in the same time there is no glare
Work light with low weight of 2,3kg
The LED light source is at least 25W, with luminous flux of at least 2500 lm
Efficient and quality cooling of Explosion proof LED light source
Ex GALA
42V/25W
230V/30W
Electrical Characteristics
Nominal Voltage
42VAC
230VAC
Operating Voltage
38 - 48VAC; 38 - 60VDC
210 - 250VAC
Total Power
~25 W
~30W
Power Factor
≥ 0,98 at 42VAC
> 0,98 at 230VAC
Total Harmonic Distortion
~8 %
~13%
Operating Temperature
-40°C to +50°C
Light Characteristics
Lumen output
~2500lm
~3500lm
Luminary Efficacy
~100lm/W
~115lm/W
CCT (Correlated Colour
Temperature )
4500K to 5500K
CRI (Colour Rendering Index)
80 - 85
Estimated service life
60.000 working hours temp. 25°C
Protection, Construction, Dimensions
IP Rating
IP 66
Protection
IK8, OVP, OTP
Diffuser
PMMA 2,5mm
Housing
Aluminum alloy powder painted with tempered borosilicate glass tube
Fixture Weight
2,3kg
Dimensions
Φ110 mm x 265 mm
Cable entry
2xM20 glands or M20 gland and M20 plug
Connection cable
3x1.5mm2 or 3x2.5mm2
Connection terminal
L1,N,PE max 3x2.5mm2 External PE terminal M5
Certificate
EXA 16 ATEX 0069X
Explosion protection
II 2G Ex db IIC T6 Gb; II 2D Ex tb IIIC T85°C Db